Public Relations
Denisa HEJLOVA has a long-term both academic and practical interest in the Public Relations. She's a member of EUPRERA, European Research and Education Association, and a Czech national coordinator of the biggest European research on PR, the Communication Monitor.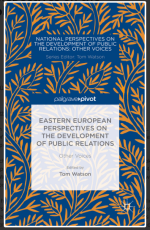 In 2014, Denisa published a first research on the history of Czech PR in a book edited by renowned professor and PR history expert Tom WATSON, in Palgrave publishing house. Previously, she has also published an overview of the Czech PR market for the international academic and professional audience (by Peter Lang publishers).
Some of Denisa's publications on PR: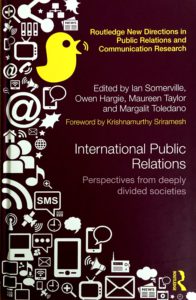 HEJLOVA, Denisa and David KLIMES. Propaganda in Czechoslovakia in the 1980s: Life in a Ritualised Lie. In: Sommerville, I. et al. (eds.): International Public Relations: Perspectives from the Deeply Divided Societies. London: Routledge, 2017
HEJLOVA, Denisa. The Czech Republic. In: Watson, Tom (ed.). Eastern European Perspectives on Development of Public Relations: Other Voices. P. 25-40. London: Palgrave. 2014. ISBN 9781137404268
KASL KOLLMANNOVÁ, Denisa. "The Role and Function of Public Relations in the Czech Republic." In: Okay, A. – Carayol, V. – Tench, R.: Researching the Changing Profession of Public Relations. Brussels: P.I.E. Peter Lang. 2013. ISBN 987-90-5201-877-5. P. 91-109
Public Affairs
Denisa HEJLOVA together with Anna MATUSKOVA are pioneering academics in the field of Public Affairs in the Czech Republic. In June 2013, they conducted the first round table on Public Affairs and Lobbying at the Charles University in Prague.
Their exploratory study of the current state of the field has been published in both Czech and international peer-reviews journals.
Denisa HEJLOVA has further explored the problems of transparency in the Public Affairs in CEE together with leading expert on the field, Professor Carla MILLAR, in a paper presented at the International Political Marketing Conference in Stockholm, Sweden, 2013.
MILLAR, Carla C. J. M. and HEJLOVA, Denisa. "Public Affairs in CEE: On the way to transparency?" Paper presented at the International Political Marketing Conference, Stockholm, September 2013. Available online. Public Affairs in CEE_Millar_Hejlova
KASL KOLLMANNOVÁ, Denisa – MATUŠKOVÁ, Anna. "Public Affairs in the Czech Republic: An Exploratory Study of the Current Situation". Journal of Public Affairs, Special Issue: Public Affairs in Central and Eastern Europe. Volume 14, Issue 1, pages 54–66, February 2014
KASL KOLLMANNOVÁ, Denisa – MATUŠKOVÁ, Anna. "Public Affairs v České republice: Současný stav oboru". In: Politologický časopis, 2013, No. 4., p. 469-482
Fashion Marketing
In 2012, a Czech stylist and Fashion Coach Viola FETISOVA set up a meeting with Denisa and Pavel IVANCIC, Czech fashion designer and Head of the Fashion Design Studio and Prague Academy of Arts, Architecture and Design – UMPRUM.
Together they created an interdisciplinary course on Fashion Marketing, which brings together Pavel's students of fashion design at UMPRUM and Denisa's students from Charles University MarComm and PR, and together they work on building young designers' portfolios, presentations, brands and start-ups. They work together with the best experts and managers from the fashion media and business and get the real-life experience.
(Picture from a New York show presenting the students fashion design in 2014)
In 2015, students of UMPRUM and FSV UK put together a powerful fashion show, which hit the headlines of many trendsetting news – see the catwalk here.
In 2016, two graduates of our Creative Fashion marketing Course, Tereza Rozalie Kladošova and Filip Jakab, were among a team curated by Pavel Ivančic, which won prestigious International Fashion Showcase Prize in London. My graduate Alexandra Strelcova and my student Simon Novak organized PR of this event.
International Conferences
6th European Communication Conference ECREA 2016 in Prague: Presenting: Japanese Kisha Clubs: Effective Media Control and PR Tool
Chairing: Organisational and Strategic Communication: Bridging divides
8th International Political Marketing Conference, 3-5 September, Charles University in Prague – main host of the conference, conference speaker: New trends in Political PR /with Anna Matuskova/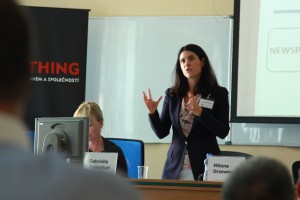 International History of PR, Bournemouth University, 2014 (attendance)
7th International Political Marketing Conference, Sweden, Stockholm Business School, 2013
EUPRERA Annual Congress, Istanbul University, 2012
Visiting Lecturer at International Universities
Columbia University in the City of New York (November, 2014) – Media, Business and Politics in Eastern Europe: Public Relations Development and its Power 
Columbia University in the City of New York (September, 2014) – Media, Business and Politics: How they clash in CEE
Waseda University in Tokyo, Japan (July, 2014) European Perspectives on Global Environmental Communication
Catholic University in Ruzomberok, Slovakia (April, 2013) – Presentation of Political Privacy in Media
Universitat Leipzig, Germany (December, 2012) – Czech Marketing Communication and PR